Africa Heart Rhythm Association
Overview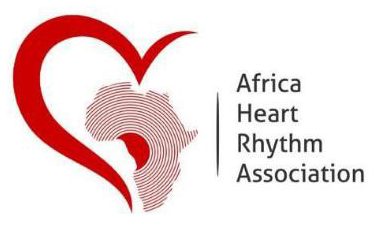 Chair Person: Prof Mervat Aboulmaaty (Egypt): mervat_aboulmaaty@med.asu.edu.eg

Become a Member
For more information, please visit our website:
https://www.afhra.online/
What we do
News and Events
AFHRA Basic Pacing Course 26 - 27 October 2023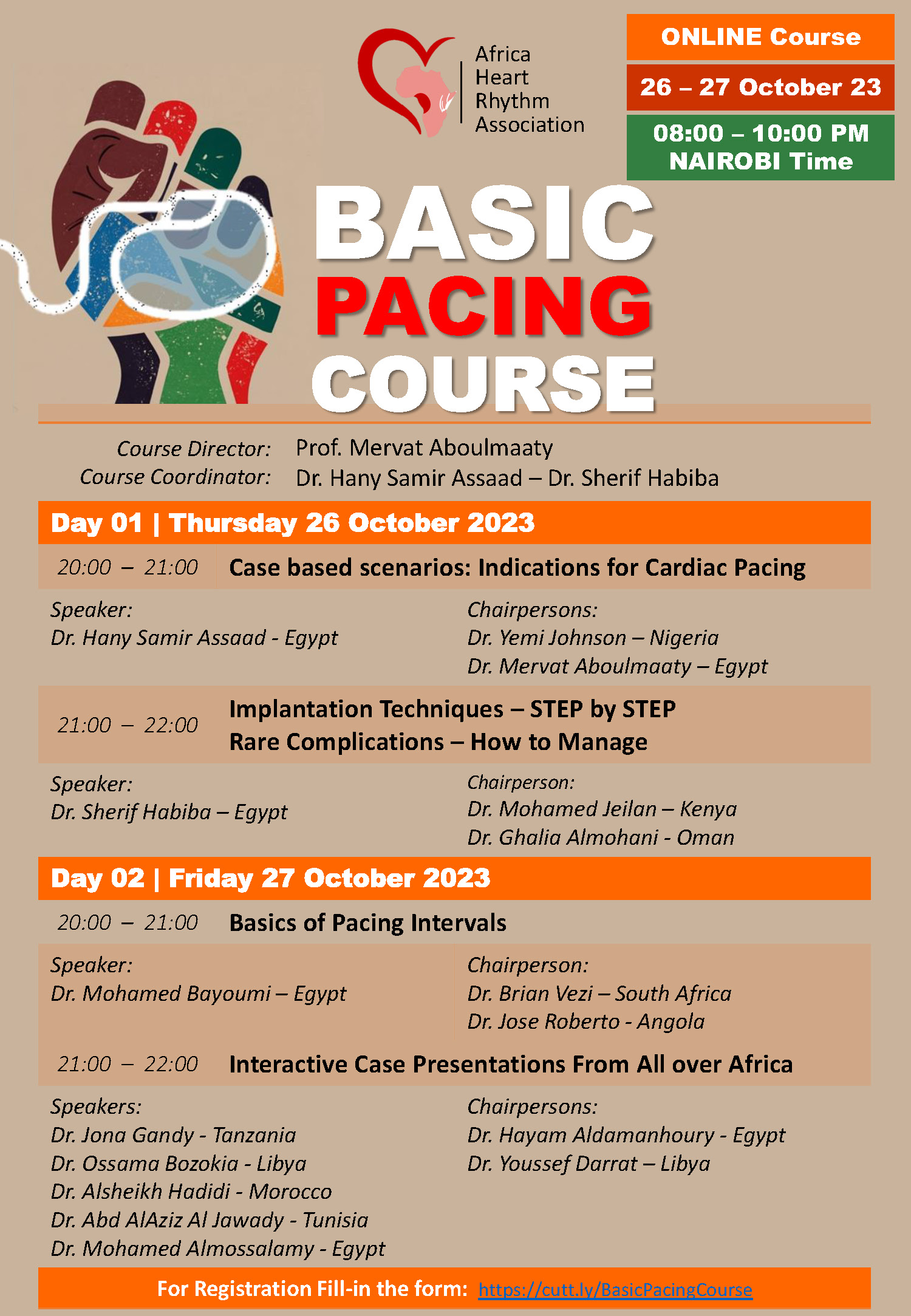 HRS2023 TRAVEL SCHOLARSHIPS TO ATTEND IN NEW ORLEANS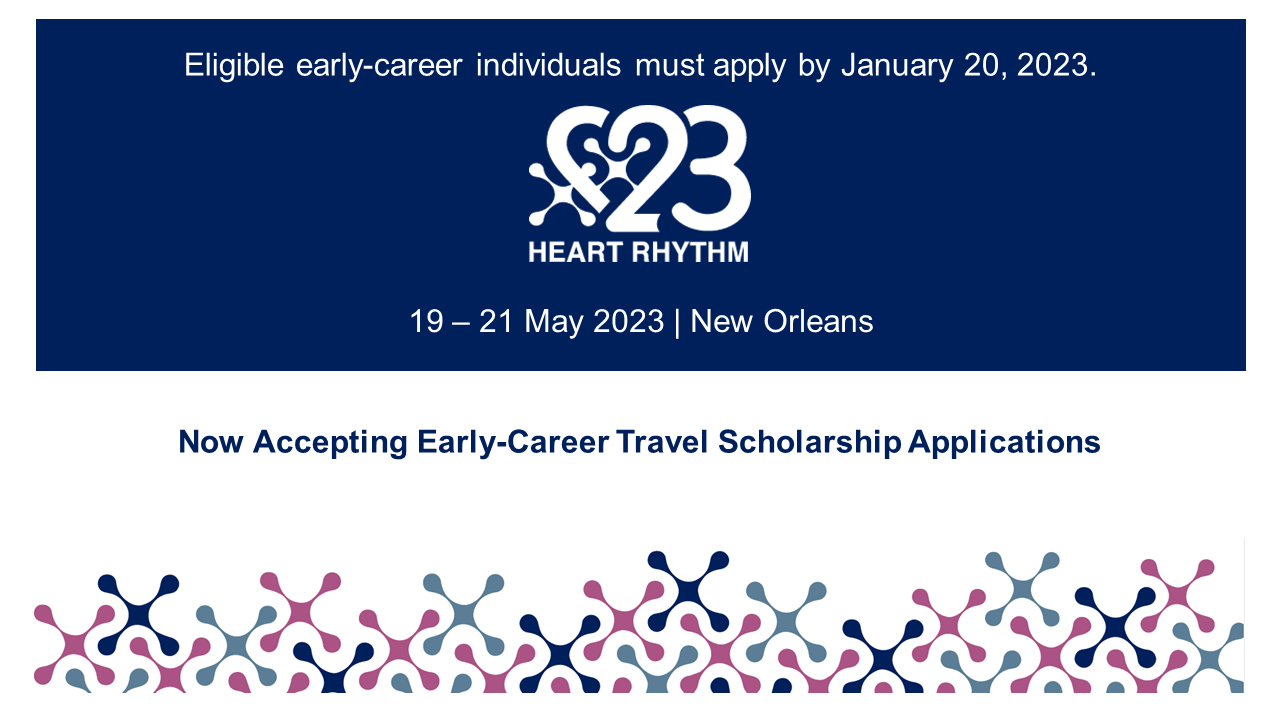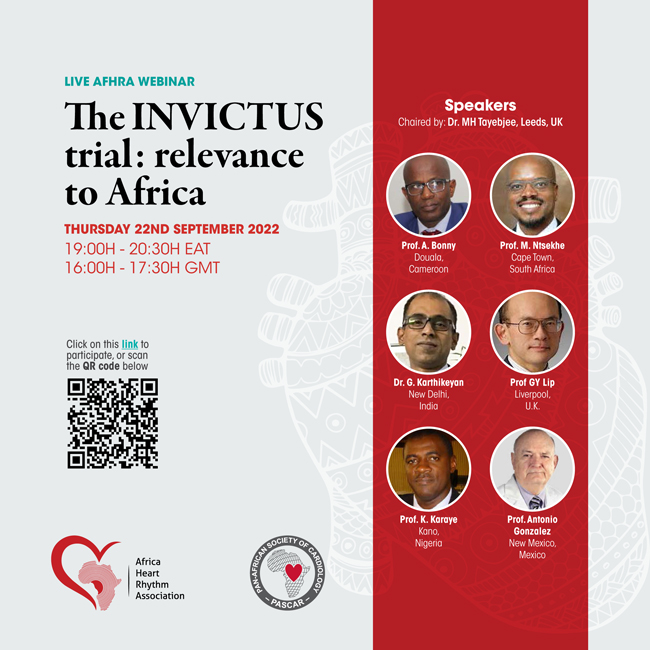 CLICK HERE join the meeting
SPECIAL EP ON EP EPISODE: QTC MONITORING WITH DRUG THERAPY DURING COVID-19
In this HRS EP on EP episode, Eric N. Prystowsky, MD, FHRS, interviews Michael John Ackerman, MD, PhD to discuss QTc monitoring with drug therapy during COVID-19.
Click here for the video:https://www.hrsonline.org/COVID19-Challenges-Solutions/special-ep-ep-episode-qtc-monitoring-drug-therapy-during-covid-19
Click here to view: Cardiac Arrhythmias and PACING: Report and Plans for 2018 - 2021
PASCAR Pacing and Arrhythmia research project selected as one of the best studies of the World Congress of Cardiology 2019 (Click here to download pdf)
PASCAR Pacing Fellowships and Workshops: Re-used Pacemaker Project – Sierra Leone and Kenya (February 2018) (Click here to download pdf)
Corporate Support and Partners
Publications
Brian Vezi, Olumuyiwa P. Akinrimisi. Permanent Bi-Bundle Pacing in a Patient With Heart Failure and Left Bundle Branch Block JACC Case Reports VOL. 4, NO. 24, 2022 (Click Here to download pdf)
Brian Vezi, Ajijola Olujimi, Marcus Ngatcha, Aime Bonny, Justin Ragadu, et al. Permanent His bundle pacing using a Biotronik styletdriven lead: Feasibility and early outcomes from a single centre Cardiovascular Journal of Africa,28 May 2022, DOI: 10.5830/CVJA-2022-026 (Click Here to download pdf)
Philasande Mkoko,Nthabiseng Barole,Kayla Solomon,Ashley Chin et al. Feasibility and safety of interventional electrophysiology and catheter ablation in the South African public sector: Challenges and opportunities for comprehensive cardiac electrophysiology in South Africa Journal of Arrythmia, 14 September 2022 (Click Here to download pdf)
Vincenzo Russo, Antonio Rapacciuolo, Pia Clara Pafundi et al. Cardiac Implantable Electronic Devices Replacements in Patients Followed by Remote Monitoring During COVID-19 Lockdown European Heart Journal – Digital Health, ztaa018 (25 January 2021) (Click Here to download pdf)
Hindricks G, Potpara T, Dagres N et al. 2020 ESC Guidelines for the Diagnosis and Management of Atrial Fibrillation Developed in Collaboration with the European Association of Cardio-Thoracic Surgery (EACTS) European Heart Journal (2020) 00, 1126 (Click Here to download pdf)
Haran Burri, MD,a Marek Jastrzebski, MD,b Pugazhendhi Vijayaraman, MDc Electrocardiographic Analysis for His Bundle Pacing at Implantation and Follow-Up, 2020 (Click Here to download pdf)
Communication, Toolkit and Resources
Information for professionals
Educational material
Cardiorhythm Africa
Information for patients
Corporate and Partners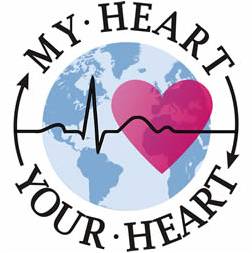 Join the Network
Editorial Discussions
Research and Publications
Heart Rhythm O2
An Official Journal of the Heart Rhythm Society
Editor in Chief: Dr. Jeanne E. Poole, MD, FHRS
Heart Rhythm O2is the newest online-only, open access publication of the Heart Rhythm Society and is one of two open access companion titles to the respected HeartRhythm.

To continue reading, click here
Original Article
Cardiac arrhythmia services in Africa from 2011 to 2018: the second report from the Pan African Society of Cardiology working group on cardiac arrhythmias and pacing
Aimé Bonny, Marcus Ngantcha, Matthew Yuyun, Kamilu M. Karaye, Wihan Scholtz, Ahmed Suliman, George Nel, Yazid Aoudia, Adama Kane, Abdelhamid Moustaghfi, Emmy Okello, Martin Houenassi, Arn Sonou, Ali Niakara, Yves Ray Lubenga, Anicet Adoubi, James Russel, Albertino Damasceno, Ali Ibrahim Touré, Abdoul Kane, Alioune Tabane, Mohammed Jeilan, Alassane Mbaye, Kemi Tibazarwa, Yousef Ben Ameur, Mamadou Diakité, Saad Subahi, Bundhoo Kaviraj, Mahmoud U. Sani, Olujimi A. Ajijola, Ashley Chin, and Karen Sliwa
(To download PDF, click here)
(To view online, click here)
Cardiovascular Journal of Africa: Vol 31 No 1 (January / February 2020)
Click to download and read the Cardiovascular Journal of Africa: Vol 31 No 1 (January / February 2020)
Journal of the American College of Cardiology Volume 73, Issue 1, January 2019
Cardiac Arrhythmias in Africa - Epidemiology, Management Challenges, and Perspectives
Aimé Bonny, Marcus Ngantcha, Wihan Scholtz, Ashley Chin, George Nel, Jean-Baptiste Anzouan-Kacou, Kamilu M. Karaye, Albertino Damasceno and Thomas C. Crawford
(To download PDF, click here)
Abstract
Africa is experiencing an increasing burden of cardiac arrhythmias. Unfortunately, the expanding need for appropriate care remains largely unmet because of inadequate funding, shortage of essential medical expertise, and the high cost of diagnostic equipment and treatment modalities. Thus, patients receive suboptimal care. A total of 5 of 34 countries (15%) in Sub-Saharan Africa (SSA) lack a single trained cardiologist to provide basic cardiac care. One-third of the SSA countries do not have a single pacemaker center, and more than one-half do not have a coronary catheterization laboratory. Only South Africa and several North African countries provide complete services for cardiac arrhythmias, leaving more than hundreds of millions of people in SSA without access to arrhythmia care considered standard in other parts of the world. Key strategies to improve arrhythmia care in Africa include greater government health care funding, increased emphasis on personnel training through fellowship programs, and greater focus on preventive care.
The New England Journal of Medicine 2018
Original Article
Outcomes of Cardiac Screening in Adolescent Soccer Players
Aneil Malhotra, Gherardo Finocchiaro, Ian Beasley, Antoinette Kenny, David Oxborough, Guido Pieles, David Ramsdale, John Somauroo, Amanda Varnava, Zaheer Yousef, Michael Papadakis
(To download PDF, click here)
Kevin Wunderly, Zaheer Yousef, et al. Using reconditioned pacemakers to treat bradycardia in Africa. Nature Review 2018 September (click here to download pdf)
Talle MA, Bonny A, et al. Status of cardiac arrhythmia services in Africa in 2018: a PASCAR Sudden Cardiac Death Task Force report. CVJA, 2018 Mar/Apr (click here to read abstract)
Aime Bonny, Marcus Ngantcha, et al, Statistics on the use of cardiac electronic devices and interventional electrophysiological procedures in Africa from 2011 to 2016: report of the Pan African Society of Cardiology (PASCAR) Cardiac Arrhythmias and Pacing Task Forces. Europace Article, June 2018 (click here to download pdf)
Mahmoud Sani, Bongani Mayosi. The Pacemaker and ICD Reuse Programme of the Pan-African Society of Cardiology. BMJ, 2017 (click here to download pdf)
Zaheer Yousef. Pacemaker Re-use: An option in Africa? Presentation at PASCAR, Sudan Heart Society & PAFCIC Congress 7 - 11 October 2017 (click here to download pdf)
Aime Bonny. Cardiac Arrhythmias in Africa: prospect, challenges, and perspectives. Presentation at PASCAR, Sudan Heart Society & PAFCIC Congress 7 - 11 October 2017 (click here to download pdf)
Aditya Kapoor, Amit Vora, et al. Guidance on reuse of cardio-vascular catheters and devices in India: A consensus document. Indian Heart Journal 2016 (click here to download pdf)
Aloysius Ochasi, Peter Clark. Reuse of Pacemakers in Ghana and Nigeria: Medical, Legal, Cultural and Ethical Perspectives. Developing_World_Bioethics 2015 (click here to download pdf)
Zimasa Jama, Ashley Chin, et al. Performance of re-used pacemakers and implantable cardioverter defibrillators compared with new devices at Groote Schuur Hospital in Cape Town, South Africa. CVJA July/August 2015 (click here to download pdf)
Mahmoud U.Sani. The Case for a Pacemaker and ICDs re-use Programme in Africa (click here to download pdf)