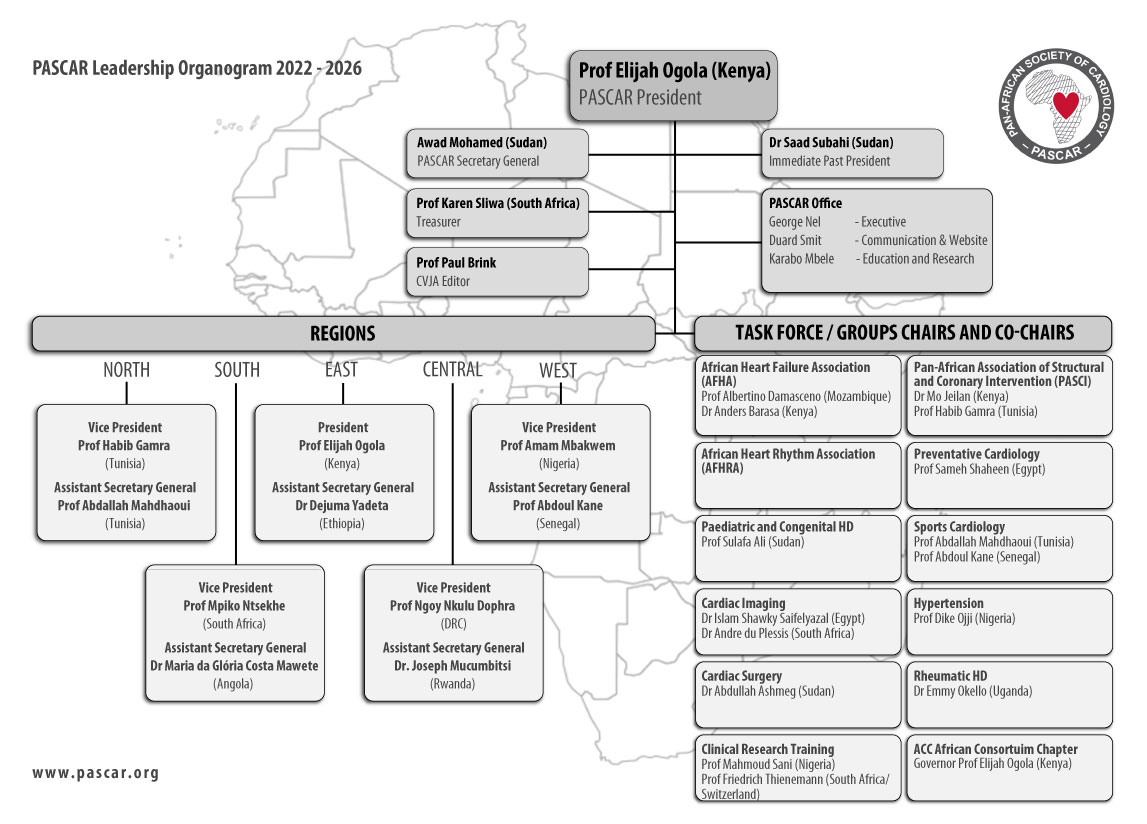 Elijah Ogola, President PASCAR National Council
Professor Elijah Nyainda Ogola is the chairman of the department of clinical medicine at the University of Nairobi (Kenya). He is a clinical cardiologist. His main research interest is the emergence of cardiovascular risk factors in Africa.
---
Awad Mohamed, PASCAR Secretary General
MBBS, MSc, MD, FRCP, FESC
Department of Medicine, University of Khartoum Qasr Street Khartoum, The Sudan
---
Saad Subahi, Immediate Past President
MBBS Khartoum University, FRCP London, FRCPI.
Consultant cardiologist with interest in echocardiography and cardiac imaging, Ribat University Hospital, Khartoum, Sudan.
Associate Professor, College of Medicine, Alribat National University Khartoum, Sudan.
President Sudan Heart Society from 2012 - 2014.
Member, Cardiology advisory Council, Federal Ministry of Health, Sudan.
Member, Cardiology Board, Medical Specialization Council, Sudan.
Vice President Cardiology Board, Sudan Medical Council.
Member, National Committee for Control of RHD Sudan.
Member, Human Drugs Committee, National Council for Drugs and Poisons, Sudan.
---
Karen Sliwa, Treasurer
Professor Karen Sliwa, MD, PhD, FESC, FACC, DTM&H
Director: Cape Heart Institute & Hatter Institute, Faculty of Health Sciences, University of Cape Town, South Africa
Professor: Division of Cardiology, Department of Medicine, Groote Schuur Hospital, Cape Town, South Africa


Prof. Karen Sliwa is a senior cardiologist working at the Division of Cardiology, Department of Medicine, Groote Schuur Hospital, University of Cape Town and at UCT Private Academic Hospital. Her special areas of expertise are heart failure, structural heart diseases such as cardiomyopathy and cardiac disease in pregnancy.
She is also Director of the Cape Heart Institute, Faculty of Health Sciences, University of Cape Town.
Prof. Sliwa is widely recognised as a world expert in cardiovascular diseases (CVDs), with a special interest in reducing morbidity and mortality in women with cardiac disease in maternity. She has contributed to better understanding on the pathophysiology, treatment options and awareness of peripartum cardiomyopathy (PPCM), a global disease particularly prevalent in African populations.
She led and still leads several inter-Africa and global cardiovascular research projects, which have had a major impact for creating knowledge about CVDs common in Africa and other Middle-to-Lower income regions, leading to changes in policy. Her considerable experience in setting up simple, cost-effective registries and web-based data entry platforms have had a major impact on planning several innovative research projects and has facilitated the training of physicians from several African countries, including Mozambique, Nigeria, Cameroon, Uganda and Tanzania. Her translational research from bench-bed-to-population studies have led to a much better understanding of CVDs such as rheumatic heart disease and heart failure due to various causes and subsequently improved patient care.
She holds numerous awards such as the German Cardiac Society Paul Morawitz Award for Exceptional Cardiovascular Research ( 2013), a Honorary Doctorate University Diderot-Sorbonne, Paris, France (2017), European Cardiac Society Geoffrey Rose Award for Population Sciences ( 2019) and the South African Medical Research Council Gold award ( 2021). She has authored more than 400 publications, trained more then 30 post graduate students. Her papers are highly cited (H-Index >95).
Professor Sliwa leads several high-profile special interest groups including a dedicated EORP Working Group on PPCM of the Heart Failure Association of European Society of Cardiology. Over her distinguished career she has served in many notable roles, including chair of the South African Heart Failure Association ( HeFSSA), President of the South African Heart Association (2014-2016), President of the World Heart Federation (2019-2020) and currently being a Board member of the Pan African Society of Cardiology ( 2021-2025).
.
---
Paul Brink, CVJA Editor
---
Habib Gamra, Vice President Northen Region
Professor Habib Gamra obtained his medical degree from Sousse University School of Medicine (Tunisia) in 1987 before starting a residency in Cardiology at Charles Nicolle Hospital, Rouen (France) and a fellowship in interventional cardiology at the Good Samaritan Hospital and University of Southern California, Los Angeles, USA that he completed in 1993. He is currently professor in cardiology at the university of Monastir (Tunisia) since 1996 and he currently holds the following positions:
Head of Cardiology A Department at Fattouma Bourguiba University Hospital - Monastir, Tunisia
Chairman of the Pan African Course on Interventional Cardiology (PAFCIC) that is held annually since 2000 (www.pafcic.org)
President of the Tunisian Heart Foundation
Co-director of Africa PCR
Co-Director of CSI Africa congress
Co-Chairman of Cardio Vascular Clinical Trialists MEMA meeting
Past President of the working group on interventional cardiology of the Tunisian Society of Cardiology and Cardiovascular Surgery (GTCI)
Past President of the African Heart Network
Board member of The Panafrican Society of Cardiology (PASCAR) Interventional Cardiology Task Force
Stent Save A Life country champion for Tunisia
President of the regulatory specialised commission at the Tunisian ministry of health
He is also in the editorial board of various national and international journals.
---
Mpiko Ntsekhe, Vice President of the Southern region
MD PhD F.A.C.C is the current Hellen and Morris Mauerberger Professor and Chair of Cardiology, at the University of Cape Town and Head of Clinical Cardiology at Groote Schuur Hospital. After graduating from Columbia University School of Physicians and Surgeons in New York City he completed his clinical and research training at UCT. Ntsekhe is an NRF rated researcher with a well-established research and publication track record and serves on the editorial board of Circulation and Heart among others. He is passionate about teaching and training in post graduate clinical cardiology and cardiovascular research, and improving patient access to cardiovascular care through advocacy policy and practice throughout the African continent. Ntsekhe is Chair of the Astra Zeneca Research Trust and serves in a leadership capacity in a number of organizations including AfricaPCR, SA Heart, SASCI, EuroPCR, and the Pan African Society of Cardiology.
---
Ngoy Nkulu Dophra, Vice President Central Region
---
Amam Mbakwem, Vice President Western Region
Dr Amam Chinyere Mbakwem (MBBS, FWACP, FACC, FESC) is a professor of Medicine at the University of Lagos and a consultant cardiologist to the Lagos University Teaching Hospital. She has also undergone training in Medical Education at theFAIMER institute in Philadelphia, USA and earned a fellowship in Medical education in 2009.
Dr Mbakwem's research interest includes Heart failure, systemic and pulmonary hypertension, heart disease in women, effective communication in disease management and the psychosocial issues in cardiovascular diseases.She has is a member of the Nigerian Hypertension society guidelines writing committee.
She is the current President of the Nigerian Cardiac Society and a member of the European Society of Cardiology working group on Peripartum cardiomyopathy. She is also a member of the Heart and Brain working group of the European Society of Cardiology.
She is passionate about taking CVD management from the ivory towers to the community and as such gives a number of public health lectures and CVD screening for people in the 'market place' and is involved in advocacy issues for CVD management in Nigeria.
---
Abdallah Mahdhaoui, Assistant Secretary General Northen Region
---
Maria da Glória Costa Mawete, Assistant Secretary General Southern region
Pediatric Cardiologist with 7+ years of experience in the field. Driven by expanding network to improve pediatric cardiac care in SSA, with focus in continuous medical education for HCPs through Angolan Cardiology Society and cardiovascular health literacy for stakeholders through social and official media.
---
Dejuma Yadeta, Assistant Secretary General Eastern Region
---
Joseph Mucumbitsi, Assistant Secretary General Central Region
---
Abdoul Kane, Assistant Secretary General Western Region