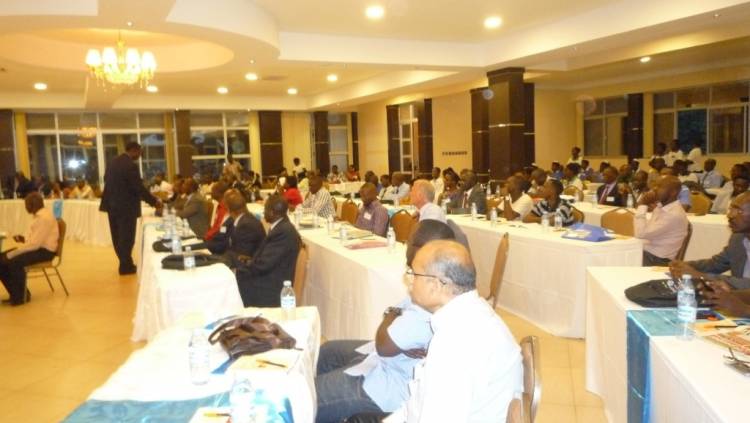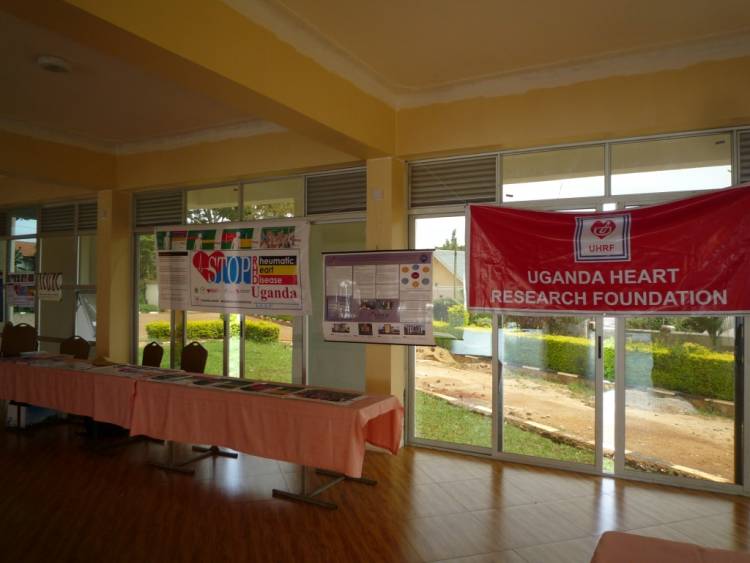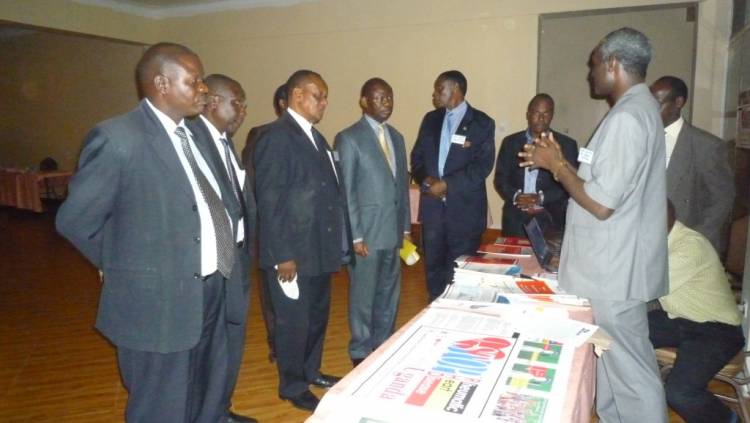 FINAL REPORT
Date and Country Name
February 2015; Uganda
Name and address of implementing organization:
Uganda Heart-Research Foundation
Mulago Hospital, 4th Floor
Department of Medicine
Plot No. 1 Upper Mulago Hill Road, Kampala – Uganda
Contact name, email and telephone.
Dr. Mondo Charles Kiiza, MBChB, MMed, PhD.
Consultant Cardiologist – Mulago Hospital, Kampala – Uganda.
Tel: +256774460496; Email: charlesmondo2011@gmail.com
Other organizations participating in activity:
Mulago National Referral Hospital
Uganda Medical Association
Uganda NCD Alliance.
Uganda Initiative for Integrated Management of Non-Communicable Diseases
Summary of activity :
Three main activities were undertaken:
Activity No. 1 was the Uganda Medical Association (UMA) Annual Scientific Conference which was held from 6th to 8th November 2014.
This conference brings together doctors and other health workers from across the country. It was attended by over 150 participants (see attendance list attached). The UMA contributed to the printing and distribution of the abstract book which contained the WHF 'Quick Tips' and REMEDY abstract, as well as inviting the conference participants. There was nation-wide representation including politicians. The speaker of the national assembly opened the conference, and the prime minister closed it. This enhanced media coverage. During the conference; we
Disseminated the "Burden of RHD Report" to stake holders – see distribution list attached.

Disseminated the WHF "Quick Tips" document to ALL participants. This was made possible by printing the same in the abstract book that was given to all attendees.

Disseminated "REMEDY" data. This was by way an oral presentation by Dr. Mondo (see program and pictures) and also a printed Abstract in the abstract book.

Disseminated posters for primary prevention.
Activity No. 2 was Formation and inauguration of the RHD Advisory Committee. This was done at a half day meeting of 21 delegates of the Uganda Heart Research Foundation on Saturday January 17th 2015. During the meeting, the strategy to roll out the prevention campaign was discussed. This meeting was covered by UBC and the New Vision Newspaper, which resulted into the print out below. This event was co-sponsored by the Uganda NCD Alliance who facilitated the delegates and provided the meeting venue.
Activity No. 3 was print media campaign. We facilitated the article on RHD in the New Vision of Sunday January 25th 2015. Dr. Nyakoojo, who was tasked to give expert advice is a member of the advisory committee and was a lead investigator for the burden of disease project (copy of the article is attached here)
Objectives: please discuss each of the original objectives and whether/how they were met
| | |
| --- | --- |
| Original objectives | How they were met |
| Submission to government and stake holders of high quality current data on RHD. | We Compiled 150 copies of "burden of disease" report and distribution to government and key stake holders. (List of recipients attached.) |
| Dissemination of REMEDY data | We submitted an abstract the biggest medical conference in the country which was accepted. It was presented orally and also distributed as print out in the abstract to even those who did not attend the conference. (see abstract book attached) |
| Formation of RHD Advisory committee | We formed the Uganda Heart-Research Foundation RHD Advisory Committee and inaugurated it on January 17th 2015. Out 30 member invited, 21 were able to attend. |
| Community education | We printed posters and banners which we distributed to UMA conference delegates for hanging in their hospitals/clinics. The advisory committee is developing a manual for community education. |
| Press releases and pull out | We published a "case study" of a real patient then admitted to our hospital with complicated RHD and one member of the RHD advisory committee was interviewed. (Copy of article attached) |
| | Administrative |
Unexpected outcomes/developments (positive or negative)
The most positive unexpected outcome was the New Vision two-page article over a holiday – it came out on Sunday, yet Monday 26th was national holiday when no print media is circulated. This enabled to read this paper for two days!
It was also a positive unexpected development that we received the funds at the time when the UMA Conference was taking place. As you can see from the attendance list, there was wide representation including high level policy makers.
Press coverage (please list and attach articles/links, as well as photos) or other kinds of communication generated by the activity
Both events were captured by the national television (Uganda Broadcasting Service [UBC]).
The print media article is attached here with.
Plans to build upon or sustain the outcomes
Our primary approach is to engage the Ministry of Health to spear head the program by officially sanctioning through formation of a National RHD Advisory Committee. Meantime, we shall work within our available resources to continue with public awareness campaigns.