AfricaPCR 2015 post course news release
Held from the 26 – 28 March at The Forum, The Campus, in Bryanston, Johannesburg, the 2015 Course had an audible buzz with delegates being as interactive as the presenters, making for highly stimulating and informative sessions, with much take-home value.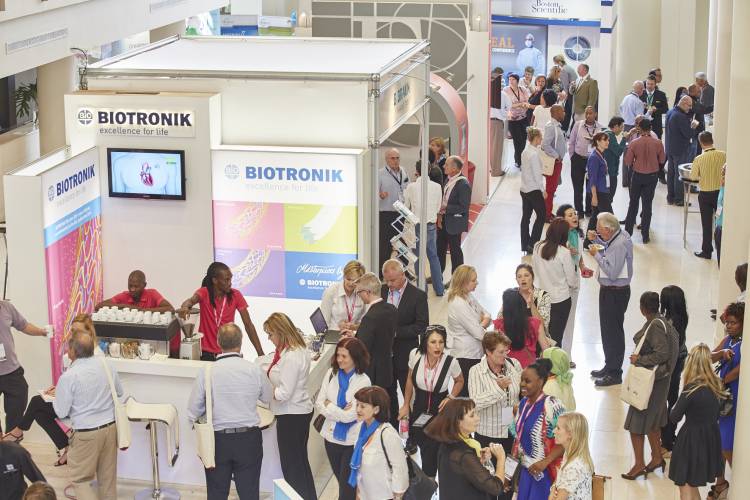 Exhibition of industry partners
Case studies were particularly interesting because they were not presented as "show and tell" exercises. Speakers presented the images pertaining to their respective cases, identified the challenges, but did not disclose how they had handled them. Instead, they invited the delegates to comment and debate how they would have treated the patient. Audience consensus or divergence regarding recommended strategies inevitably led to lively discussion, resulting in a "Yes" or "No" vote for specific procedures. Case studies were rounded off by the speakers disclosing how they actually treated their respective patients, with the chairman of the session summarising the learning points.
One of the Course highlights was a special focus on radial PCI, with two workshops on each day being dedicated to how to start a radial programme, and the tips and tricks needed to succeed with radial PCI. The workshops were sponsored by Terumo, who complemented them with a model of radial access and a radial simulator which proved to be an irresistible key attraction.
Another highlight was a special focus on "setting up a new cath lab". Discussion centred on what the basic requirements were for paediatric and adult cardiology diagnostic and interventional procedures in the cath lab.
When it came to tackling complications in the cath lab, Dr Otieno from Kenya aptly noted that if delegates hadn't experienced complications yet, then they hadn't used their cath labs sufficiently!
Fluoroscopic guidance was recommended in order to reduce the femoral access site complication rate. Prof Jean Marco said that coronary perforation and pericardial tamponade were rare, with a frequency of less than 0.2% in PCI. He noted that 51% of perforations were guidewire related, making it vital to image the position of the guidewire. The success rate in retrieving wandering stents and foreign bodies was approximately 70 – 90% when snares were used. In the case of STEMI or cardiogenic shock, delegates were advised to call for assistance from cardiothoracic colleagues. They were also encouraged to initiate a quality improvement programme by keeping records of complications that occurred in the cath lab and how they were resolved.
A few major challenges were identified with regard to establishing more cath labs, or better functioning cath labs, in Africa.
A shortage of equipment, or inadequate maintenance of equipment, appeared to be a common problem in some countries. There are currently 14 cath labs in Sudan, for example, but none with the equipment needed to do FFR.
Angola has four cath labs, with only two being functional. The reason is that the equipment suppliers and technicians are based in another country. Thus, it is clearly imperative to secure the servicing and maintenance of equipment as a contractual obligation when signing a deal with an industry partner based elsewhere.
Securing the funding to establish additional cath labs was clearly a challenge throughout the continent. Based on personal experience, Prof Mpiko Ntsekhe from UCT Medical School recommended engaging with politicians in order to advocate for the establishment of new cath labs. He cited the opening of Namibia's first cath lab a few years ago as an example, where politicians had been actively lobbied for support, with both Presidents Thabo Mbeki and Sam Nujoma having attended the opening ceremony.
Dr Bourlon drew on his experience in Mauritania in order to identify what the basic requirements were for setting up a functional cath lab. These included having enough space and sufficient ventilation, adequate cooling for the equipment, no toilets near the lab, and adequate after-sales service. There was also consensus amongst delegates about access to echocardiograms being imperative.
Dr Bourlon recommended having cardiothoracic surgery on site, but pointed out that many cath labs operated in Europe without them, with interventionists having accommodated themselves to a higher risk environment.
The 2016 AfricaPCR Course will expand on the 2015 edition and course director, Dr Farrel Hellig says that "It will aim to be even more inclusive with participation from as much of the African continent as possible. Education and resource development in the continent is clearly needed and AfricaPCR serves as a spring-board."
---
News release issued for AfricaPCR 2015 by Linda Trump of Cat Communications, Tel: (011) 485 2406, Cell: 082 341 7128, Email: ltrump@telkomsa.net
AfricaPCR organiser, Sue McGuinness of Europa Organisation Africa, can be contacted on (011) 325 0020, Email: info@eoafrica.co.za
Course director, Dr Farrel Hellig, can be contacted on: Tel: (011) 806 1835, Cell: 082 600 7703, Email: drhellig@tickerdoc.co.za